"It's my first time living in a house
with my husband - we've only ever
lived in small apartments, so we're
excited to cook a big meal. It's also
our first time having a dining room
table, and we plan on going all out!
My go-to dish is a berry pie - made
with wine. I make it every year,
and it's usually a hit."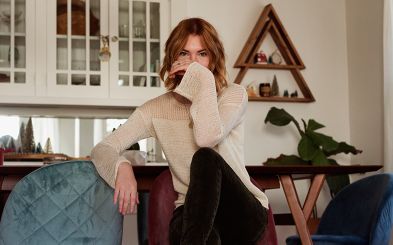 Explore The Campaign
"Nothing says the holidays like being swathed in chunky knitwear, and I love that it can be easily dressed up or down."
Explore The Campaign
Lucky Brand Courtney Halverson
Always feel your best with stylish Courtney Halverson from Lucky Brand. Stay on top of the latest trends with a variety of options. Shop our Courtney Halverson selection for bold fashion statements and enjoy the impeccable quality and attention to detail. Lucky Brand products are essential accents for your personal style.

Add some confidence to your everyday look with the Courtney Halverson collection from Lucky Brand.